Festival 2021 Line-up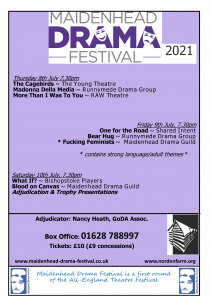 Click to download the Maidenhead Drama Festival line-up
The Programme
About the Festival
A week long festival of one-act plays.
See plays from local youth and adult groups, with comments each evening from a professional adjudicator and a host of trophies to be won on the final night.
Adjudicator: NANCY HEATH (GODA Assoc.)
When: 8th – 10th July 2021
Where: Norden Farm Centre for the Arts, Maidenhead, SL6 4PF
Contacting the Box Office
To book tickets call 01628 788997 and for queries email boxoffice@nordenfarm.org.
You can also book tickets online by clicking on the button below: